Hey, y'all — Molly here. We just moved into a new house, and there's a very long "honey-do list" my husband and I have been working our way through. We weren't prepared for two things: Windows + pressure washing. That's where Men in Kilts came to the rescue.
Before showing up on the day of the work, the team came by to give us a free estimate for all of their offerings (think: gutter cleaning, house washing + more). From there, I was able to decide which projects they would tackle — either a-la-carte, or all at once.
We were lucky enough to have covers on our gutters already (thanks, previous owners), so we landed on two other projects — interior and exterior window washing + pressure washing our walkway.
Ask Dan about their super-secret recipe for spot + streak-free windows. | GIF by the LEXtoday team
What we tried (with pricing):
Interior and exterior window washing for $308. We have 18 windows. Dan and Dan (that's not a typo, both our Men in Kilts technicians were Dans) cleaned the glass — both inside and outside — as well as the screens. To me, this was one of those things I didn't even notice how dirty they were until they were done. All I could do was sing, "I can see clearly now the grime is gone."
What not to miss:
Pressure-washing perfection. If watching pressure-washing videos gives you a little boost of serotonin, wait until you see it in real life. Dan and Dan got the walkway in front of our house looking brand new (when, in fact, it's 60+ years old). I honestly was worried this would be the most expensive piece, but was pleasantly surprised when I saw the invoice for $49.80.
They're also super mindful of your property. Men in Kilts uses a multi-step rinse process to make sure no harmful chemicals get into your surrounding grass or plants.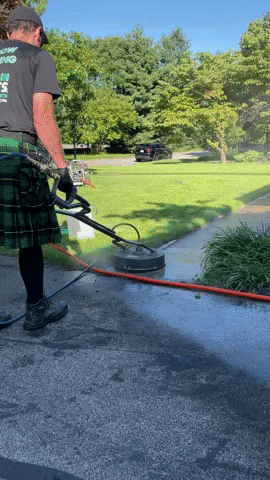 Years of dirt and build-up, gone in seconds. | GIF by the LEXtoday team
What we're still talking about:
How easy + stress-free everything was. From stopping by for a free estimate, the follow-ups and scheduling, and then the actual work — I was able to kick back, relax, and let the Men in Kilts do their thing.
How you can experience this:
Visit the Men in Kilts website to book your free assessment — you'll receive a quote for all of their available offerings.
Things to know if you go:

Experience: Men in Kilts pressure washing service
Price: $379.69; prices vary depending on each project
Website: meninkilts.com/lexington-ky
Address: 365 Duke Rd., Ste. A22370, Lexington, KY 40522